Knee Prosthesis Implantation with Robot
Contact Person
Prof. Dr. med. C. H. Lohmann
Prof. Dr. med. C. Stärke
Special Consultation Hours: Wednesdays: 12:00 – 15:00 Uhr
Contact: Tel.: 0391-67-14050
Our knee joints are complex structures. Uneven leg axes, the rotations of the individual components and the resulting inaccuracies in the bone incisions are specific and well-known challenges at the operating table. A minimal misalignment of the knee prosthesis to be implanted, even if only by a few millimeters, can under certain circumstances lead to persistent complaints. In Germany, more than 180,000 artificial knee joints are implanted every year. Around 20-30% of those affected are dissatisfied with the artificial joint afterwards. In many cases, the cause of the complaints is a malposition of the inserted prosthesis.
With a Semi-active Robot to the Artificial Knee Joint
From November 2020, the orthopedic team of Prof. Lohmann will rely on the support of a semi-active robot called ROSA© in the operating room. We will expand the extensive range of treatments in endoprosthetics of the knee with this innovation as the first university clinic for orthopedics in Germany and the first clinic ever in Saxony-Anhalt. This also makes us one of the medical pioneers in this field nationwide, as only 15 clinics in all of Germany currently offer surgery with a robot-assisted procedure at all.

With the robot-guided support, the artificial knee joint is then inserted with millimeter precision, and the required establishment of the straight leg axis in the knee joint as well as the correct rotations of the prosthetic components can then be ensured.
What is the procedure for robotic-assisted knee replacement surgery?

Diagnostics / examinations of the knee
Clinical examination often reveals a painful restriction of knee movement. A reduction in strength or even blockages are also frequently detectable. Friction phenomena, so-called "crepitations", are conspicuous during the examination.
X-rays can be used to reliably diagnose the extent of joint wear. In the case of high-grade gonarthrosis, for example, the joint space and the formation of jagged edges (bone attachments, "osteophytes") as well as axial malalignment can be detected. If additional damage to the internal structures of the knee is suspected, ultrasound examination (sonography) or magnetic resonance imaging (MRI) can help clarify the situation.
Thus, the individual conditions of your knee are examined preoperatively in a preliminary consultation by our medical team.
Example X-ray images before and after implantation of a Persona knee prosthesis with robot.
a) präoperative Röntgenbilder des kranken Knies in 2 Ebenen
b) nach Implantation der Knie-Totalendoprothese angefertigte Röntgenaufnahmen
Surgical Technique with Robot
Before a robot-assisted knee joint is implanted, the knee is measured using X-rays. The surgeons then create a digital plan on the computer.
In the operating room, so-called trackers are attached to your knee - the navigation unit recognizes them and transmits the spatial knee position and the planned bone cuts to the robot.
The robot consists of an arm to which tools for processing the bone can be attached. The surgeon guides the saw/mill himself with his hands and has control over the instrument at all times. The robot, however, defines the cutting plane and the limits within which the saw/mill is guided with millimeter precision. This prevents incorrect sawing and protects the surrounding structures, such as nerves, vessels or ligaments.
Am Ende der Knie-Operation kann durch die Kontrollfunktion des Systems noch einmal die geplante Prothesenposition und die korrekte Stabilität im Gelenk überprüft und auch dokumentiert werden. Dadurch wird die Operation sehr viel reproduzierbarer und auf Ihre individuelle Situation zugeschnitten.
Behandlung nach Knie-OP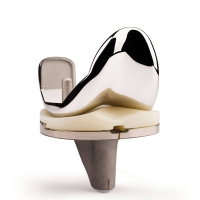 Die Orthopädische Universitätsklinik bietet das ROSA-Verfahren ohne Zuzahlung für gesetzlich versicherte Patienten oder Privatpatienten bei Knieprothesenimplantation an. Als Universitätsklinik wünschen wir uns auch nach der Operation ambulanten Kontakt und die Teilnahme an Beobachtungsstudien. Die Entscheidung über den Einsatz hängt dabei von verschiedenen Faktoren ab. Das ROSA-Verfahren kommt hierbei nicht für alle Patienten in Frage, insbesondere wenn Spezialprothesen erforderlich sind, die mit anderen Implantaten versorgt werden müssen. Auch hier bieten wir alternative OP-Verfahren und technische Hilfen an.
Jede Operation verlangt eine genaue Überprüfung und ein persönliches Kennenlernen. Dazu müssen Sie sich persönlich in einer vorbereitenden Sprechstunde zum Vorgespräch und ausführlichen Erläuterungen vorstellen.
Nachbehandlung - Wie geht es nach der Operation weiter?
Ihre Behandlung ist an unser etabliertes Rehabilitationsprogramm angeschlossen, und Sie werden, wie bei einer normalen Knieprothesen-Operation, auf dem Weg zu einer raschen Genesung durch uns stationär und ambulant intensiv begleitet. Der Behandlungspfad ist so angelegt, dass Sie bereits früh nach einer Operation wieder aufstehen und laufen können.
Vorteile der Roboter-OP
Außergewöhnlich hohe Präzision
größere Patientensicherheit
bessere Beweglichkeit des Kniegelenkes und schnellere Mobilisierung
weniger Schmerzen mit einer kürzeren Aufenthaltszeit im Krankenhaus
schnellere Erholung und Rückkehr in Alltagstätigkeiten
Risiken der Roboter-OP
Wissenschaftliche Studien zeigten eine hohe Reproduzierbarkeit und extrem geringe Fehleranfälligkeit. Es wurden bereits zahlreiche positive Effekte nachgewiesen, wie beispielsweise ein geringeres Risiko für Revisionsoperationen und eine schnellere Rehabilitation oder geringeren postoperativen Schmerz. Robotergestützte Systeme werden nicht nur in den USA seit über 10 Jahren eingesetzt. Für die ROSA-Knieprothesenoperation gelten ähnliche allgemeine Risiken, wie bei anderen Operationen auch.
Statement
"Als modernes innovatives Universitätsklinikum wollen wir unseren Patienten die bestmögliche und qualitativ hochwertigste medizinische Versorgung bieten. Mit Blick auf die Digitalisierung kommen dabei immer mehr medizinische Innovationen zum Einsatz, die das Beste des Menschen mit dem Besten der Künstlichen Intelligenz verknüpfen. Die Landesregierung Sachsen-Anhalt und das Universitätsklinikum legen größten Wert darauf, die Kliniken fit für die Zukunft zu machen und war deshalb bereit, dieses medizinische Leuchtturmprojekt für Sachsen-Anhalt zu ermöglichen. Dafür danke ich den Mitwirkenden sehr! Entscheidungen wie diese machen einmal mehr deutlich, dass eine sehr gute medizinische Versorgung der Bevölkerung hohe Priorität hat. Mit dem Einsatz des ROSA in der Gelenkersatzchirurgie werden wir diesem Anspruch sicher gerecht" betont Prof. Dr. med. C. H. Lohmann.
News: Die Universitätsmedizin Magdeburg erweitert ihr technologisches Equipment um ein weiteres Roboter-System